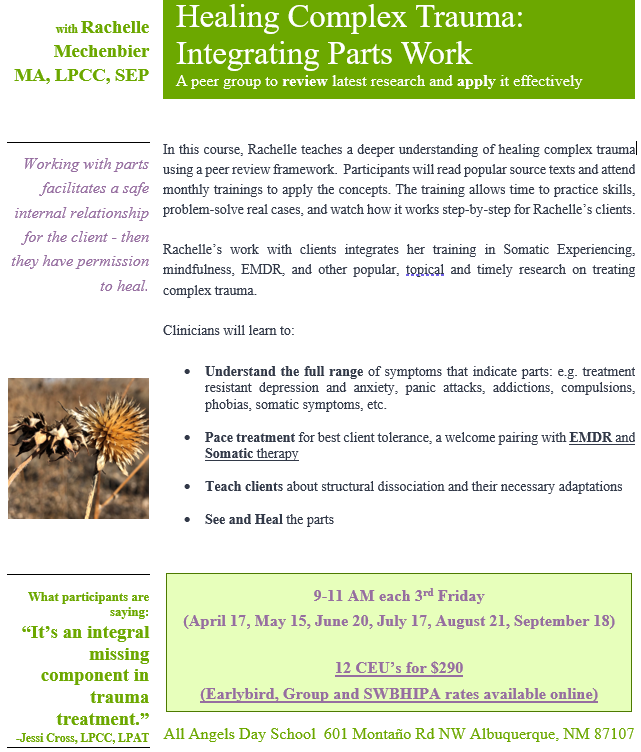 Update 4/16/20:
ALL TRAININGS WILL BE DONE REMOTELY. Please see below
---
Therapists love this training!
Here's their resounding "YES!" when they recommend Rachelle's peer training to other clinicians:
"Because I've seen this information, these concepts, this structure, make sense and bring relief to enough of my own clients that I believe it is sound and super helpful, finally."
"This model is amazing and lots to digest. Excited to have support."

Molly Adler, LCSW, CST, ACS

"Thoroughly usable for so many populations."
"Rachelle is an exceptional group facilitator who makes material come alive with her colorful visuals, intelligent insights, and accessible friendliness. She has the rare ability to consistently offer panoramic perspective, while also hammering out important details for meaningful case application. Rachelle generously shares her passion for this highly effective internal attachment repair work–which elegantly links dissociative fragmentation with biologically innate survival instincts, and offers healing through profound respect, compassion and collaboration. Any therapist working with complex trauma and attachment injury in adults won't want to miss this opportunity to deeply explore such powerful work facilitated with unpretentious savvy and lighthearted humor."

Jodi Rodgers, LPCC, ATR, IMH-E(III)
---
Course
12 CEU's available
Cost: $290
ALL TRAININGS WILL BE DONE REMOTELY UNTIL IT'S SAFE TO MEET IN PERSON AGAIN! We'll email the pertinent info to the email address you provide in the registration section below.
Details
When: 9-11 AM each 3rd Friday of the month:

May 15, 2020
June 19, 2020
July 17, 2020
August 21, 2020
September 18, 2020
---
REGISTRATION
Fill out the registration form and click "Submit."
Pay for the course using the "Pay Now" button.
A list of coursework to purchase and how much to prepare will be made available upon successful registration.
"Pay Now"

BELOW

secures your seat
Thank you for your course information submission; we're looking forward to working with you! Please finalize your registration by securely providing payment via PayPal here:
Please don't hesitate to contact us with any questions, including scholarships and alternative payment options!
---
Treating Complex Trauma
About the class
Learning Objectives
How to develop awareness of appropriate pace for each client
Grounding skills for the clinician
Building a safe and healthy relationship for fragmented clients
Identifying scope of practice: ethical boundaries
Introducing parts work to clients using popular, topical and timely literature
Develop the skills step-by-step to treat parts
Methods Used
Discussion
Peer Book Study
Role Play
Group Case Consultation
Small Group Breakout
Lecture
---
7 Day Cancellation Policy:
Due to the small class size and intimate nature of this training, we ask that you make a commitment to attend when registering. Therefore, please provide cancellation notice at least 7 days prior to the start date in order to allow another therapist and their clients to benefit from your vacancy.
In the event of a cancellation, a gift certificate for the full tuition amount will be provided to attend a future training. If you prefer a monetary refund rather than a tuition gift certificate, please note that a $50 cancellation fee will apply and will also require a minimum of the 7 days' notice.
To cancel your registration, please fill out our contact form.
---
"Rachelle, I would love to take your class, but I'm unable to make it this time!"
Fear not!
Please provide contact information and/or check back soon as more trainings are planned this year. Furthermore, we're happy to take your schedule into account for future events. Please let us know HERE what would work better for you.

Thank you so much for your interest and support. – Rachelle
---
Training Development
Rachelle's experience as an educator allows her to take complex material and lay it out so that it's applicable and practical. Her sense of humor makes trainings engaging and enjoyable, even when focusing on difficult topics.
Please contact Rachelle if you'd like her to develop a training for your organization or group. CV available upon request.
---
DISCLAIMER: Rachelle has taught and practiced for many years and is therefore very comfortable with the course and subject material. NOTE, however, she should be considered a "peer" and not an "expert" on any particular instrument brought before the group by any participant.
---